Perlite
| Perlite Grade | Bag Weight (2.8 cubic foot bags) | Relative Porosity |
| --- | --- | --- |
| Harborlite 200 | 35 | 350 |
| Harborlite 400 | 33 | 550 |
| Harborlite 500 | 40 | - |
| Harborlite 600 | 38 | - |
| Harborlite 635 | 35 | 850 |
| Harborlite 700 | 30 | 1000 |
| Harborlite 800 | 27 | 1175 |
| Harborlite 900 | 25 | 1350 |
| Harborlite 1500 | 23 | 1550 |
| Harborlite 1800 | 22 | 1700 |
| Harborlite 1900 | 22 | 1900 |
| Harborlite 2000 | 16 | - |
| Harborlite 2100S | 16 | - |
These are typical or estimated physical properties, not specifications and thus should be used for comparison purposes.
Four cubic foot bags are also available for all Harborlite grades. Harborlite grades with a narrower particle size distribution are also available in the following grades. 700S, 800S, 900S, 1500S, 1800S, 1900S and 2000S.
Harborlite, Perlite filteraids are excellent filteraids, however they cannot always efficiently remove the same turbidity as equivalent Celite, diatomaceous earth (diatomite) filter aids because of the difference in the shape of the actual particles. Celite, diatomite offers a more tortuous path to the flow of the fluids because the Celite particles are intricate, complex shapes compared to Perlite.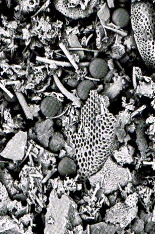 Celite, diatomaceous earth (diatomite) magnified 1000X.
www.filteraid.com
www.diatomite.com
www.beaverchemicals.com
Copyright © 2012, Beaver Chemicals Ltd. All rights reserved